"As I was driving up to Muskegon on Saturday evening, with heavy rain hitting my windshield I wasn't sure if it was such a good idea to continue." These were the words of Milwaukee Wave Head Coach, Giuliano Oliviero after the first-ever Wave-Risers combine at Shoreline Soccer Club in Muskegon. "After the session, I told the players it was absolutely worth it. The group was eager to learn, enthusiastic and a joy to work with."
Giuliano Oliviero is a long-time arena soccer professional, finishing his career in Milwaukee before becoming a player/coach under Wave legend Keith Tozer, who earned the organization an unprecedented six professional arena soccer championships under his leadership. Oliviero won his first as head coach, the organization's seventh, last season and expects continued growth for his team and the Major Arena Soccer League.
Oliviero continued, "It was a great day in Michigan as we begin our affiliation between the Muskegon Risers and MKE Wave to continue growing the amazing Arena game and strengthen the MASL brand."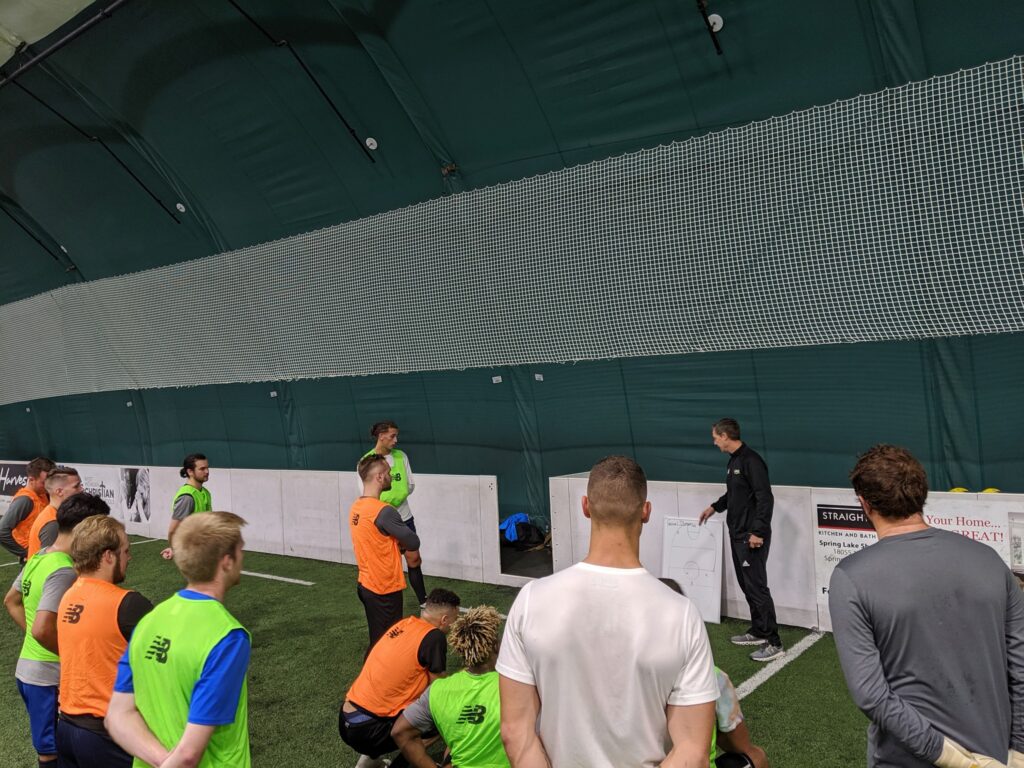 Oliviero also commented on the quality training facility he found in Shoreline Soccer Club, Muskegon's primary training ground throughout the winter arena season. He found the facility warm and clean with the turf well-groomed – a credit to recent upgrades made by Shoreline's management. The facility, which for decades has helped area soccer enthusiasts remain active and engaged with the sport they love when the snow flies, was a fitting host to this historic visit. For many, Coach Oliviero's presence brought the Risers-Wave affiliation to life and was especially felt by the players.
"You could tell instantly that Coach Oliviero has been doing this a long time" said Cody Loss, "We played a lot but also installed some basic tactical movements – the guys really enjoyed it and can't wait to continue learning the Wave's system of play."
The Risers will visit Milwaukee on November 21 to face the Wave for a "school day" preseason game. Students from around the Milwaukee area will attend as a field trip. In the meantime, Risers players and staff will continue getting schooled by Oliviero on playing within the Milwaukee Wave's player development system.